The different fashion styles of Justin Bieber and his wife have repeatedly attracted the attention of the media and audiences.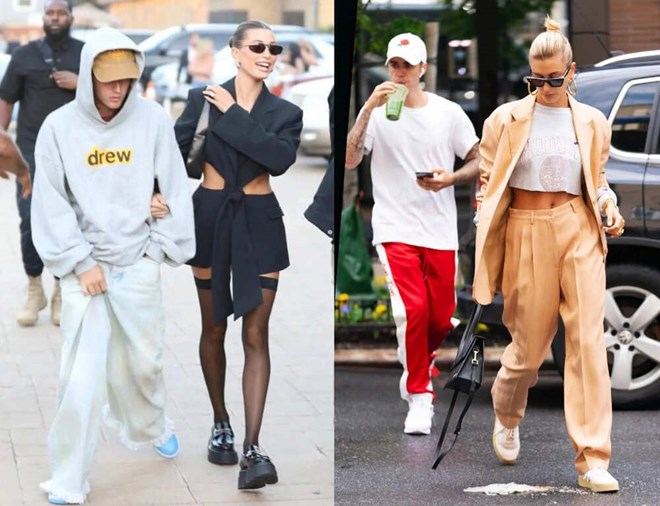 Contrasting fashion styles of Justin Bieber and his wife. Photo: Vogue
In an interview with GQ Hype, Hailey Bieber revealed about her married life with "pop prince" Justin Bieber. The online community commented that the couple looked like "from two different planets" every time they were together at events because Hailey always wore gorgeous clothes, while Justin was casual, often wearing slippers and shorts.
"It's funny because I see so many people talking about this. My husband usually gets everything ready in advance, so when I get dressed, it doesn't look like he fits into his comfortable outfit.
He can wear a baggy shirt to dinner, but I like to wear a tight short skirt. We won't tell each other that I wear this, you wear that," Hailey revealed.
Most recently, Hailey appeared at a fashion event wearing a charming red dress, handbag and high heels. Meanwhile, Justin wore an oversized hoodie and yellow sandals.
Kelia Moniz, Hailey's friend, said about Justin Bieber's appearance: "It was not Justin's day but the attention belonged to Hailey (Hailey's beauty brand launch event – PV). He's there to support his wife."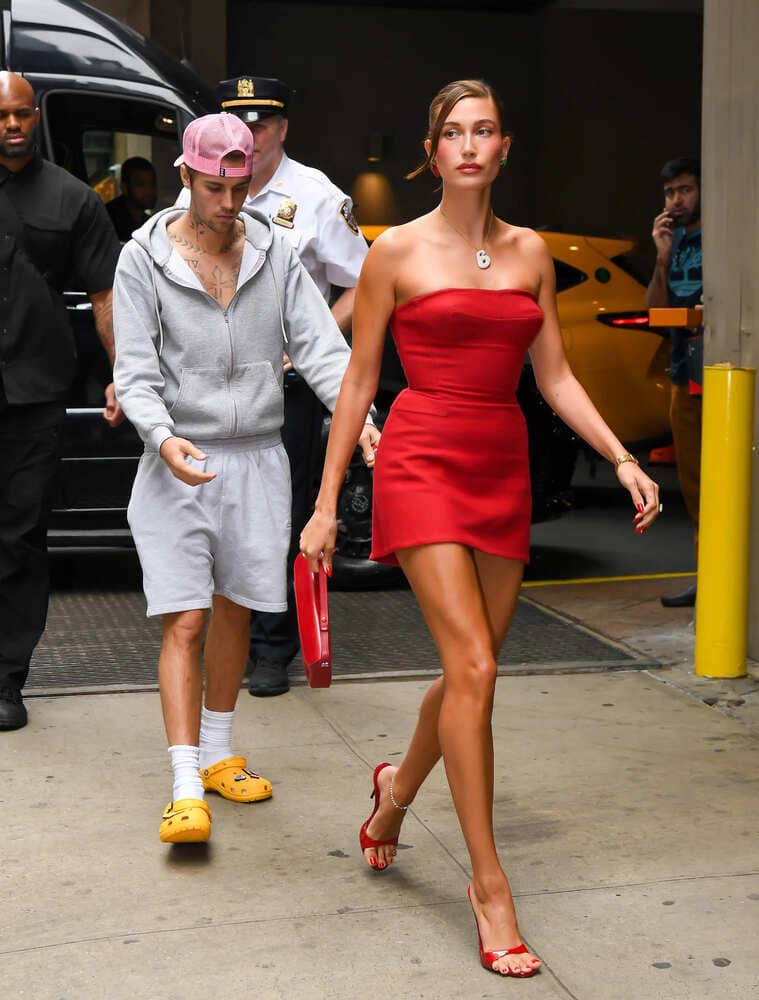 Justin Bieber and Hailey Bieber at the event. Photo: Page Six
Justin Bieber and Hailey Bieber are known for their "conflicting" way of dressing, creating a unique contrast that is rarely seen in famous couples.
While Hailey always takes care of her appearance, Justin Bieber chooses outfits that he likes.
Hailey Bieber once shared: "Justin is always the person I want to be with. I can fly away for work but I look forward to coming back and hanging out with him. I feel like everything is like that thanks to the efforts of both sides.
Justin is my best friend but marriage still takes a lot of work to maintain. I also understand that when our children are born, it will be a completely different matter of changing the way we do things to keep the marriage alive."
Over the past few years, both have had to battle illness. In March 2022, Hailey went to the emergency room after suffering an ischemic stroke. The doctor discovered that she had a top-grade patent foramen ovale (PFO), about 1.2-1.3 cm. Hailey had to undergo surgery and recovery.
Meanwhile, Justin Bieber has hemifacial paralysis syndrome, lyme disease, and infectious mononucleosis. The male singer was forced to cancel all shows from the end of 2022 to focus on treatment.