Inside Selena Gomez's Relationship With Justin Bieber's Mom
Who's as much of a fan of Selena Gomez as Justin Bieber? His mom.
Pattie Mallette had nothing but praise for the 25-year-old pop star, who appeared to have rekindled her romance with her 23-year-old son a few weeks ago. They have not commented on their reunion and have yet to attend a celebrity event together since their reconciliation.
"I don't know so much about their personal relationship because he doesn't share a whole lot, but I love her," Pattie told People on Saturday at the Justice Speaks Holiday Benefit Luncheon, where she was the keynote speaker. "I support anything [he does]. If he loves her, I love her, and I've met her and we have a special bond so I think she's precious."
"I can't really speak on their relationship, that's between them," she added.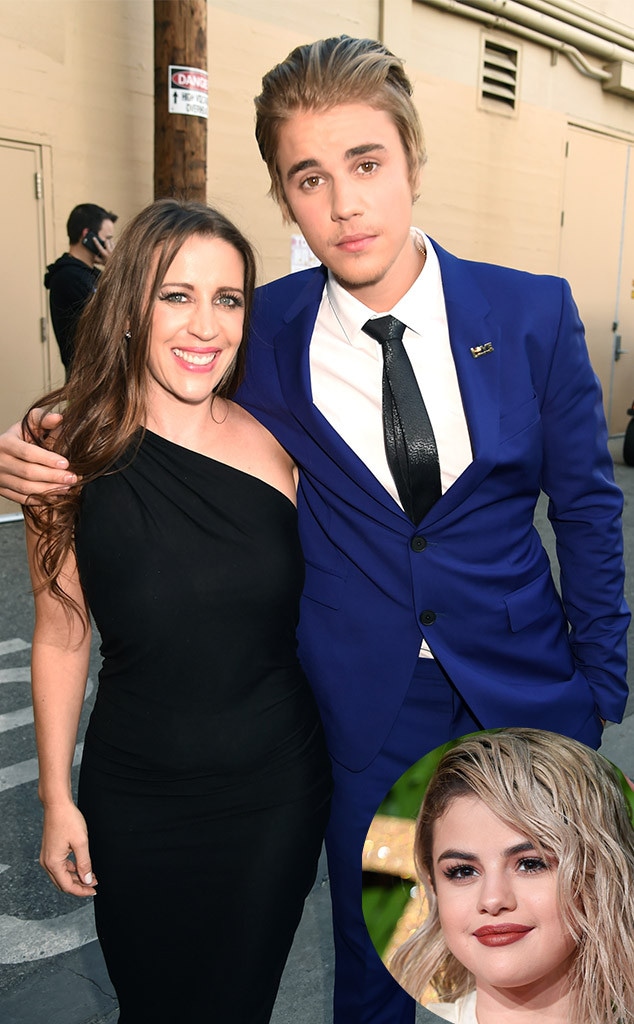 Gomez and Bieber had dated on and off for about three years until 2014, the year he underwent some personal and legal turmoil.
In 2012, Mallette praised Gomez on The Ellen DeGeneres Show, saying, "Seriously, how can you not like her? I mean you've met her. She's so sweet." She also talked about Gomez and Bieber's relationship, saying, "She's good for him and they're great together."
Two months later, amid split rumors, the three attended an American Music Awards after-party together. Pattie has occasionally accompanied her son and Gomez to events.
In 2013, Pattie weighed in on Gomez's relationship with her son again, this time on NBC's Today show.
"You know, I just try and support whatever he's wanting," she said. "I think [Gomez is] a sweetheart, and whatever they decide is great."
In 2016, two years after the couple's last breakup and while Gomez was on a break to deal with health issues, Pattie reached out to her son's ex on her birthday on Twitter.
"A birdie told me it was your birthday @selenagomez," she wrote. "Many tweets from the bird or may have been several birds maybe? #HappyBirthdaySelena."
"I am blessed to know you @selenagomez & celebrate this precious day you were born!" she continued. "Don't let them get to you. Keep UR peace & joy #LoveWins."
How do Gomez's loved ones feel about Bieber and their reunion?
"Her family is still getting comfortable with the idea of them back together," an insider told E! News in late November.
Gomez and Bieber remain mum about the status of their relationship. She recently told Billboard, when asked what brought Bieber back into her life, "I cherish people who have really impacted my life. So maybe before, it could have been forcing something that wasn't right. But that doesn't mean caring for someone ever goes away. And [that goes for] people in general."
She also talked about him in an interview with the outlet at its Women in Music event, which honored her as the 2017 Women of the Year. When asked how he's most "influenced" who she is today, she said, "I mean, I don't think anybody truly, actually cares. I think for me what's been great is that I've been able to live the life that I've wanted for myself. And that doesn't always look the way people maybe think it should look, but it's not really my concern anymore."
Selena Gomez Reveals What Happened To Justin Bieber's Mom