Among thousands of photos, why did Hailey choose that photo? Is she playing the role of Cady and "implicitly" suggesting that Selena is the "mean girl in sheep's clothing" Regina George?
Recently, Hailey Bieber shared her Halloween costume design this year. The female model chose the movie Mean Girls to play the role. Not only taking on one role, Hailey also chose all four female protagonists of the film to play. Her appearance received many compliments on social networks. Besides, some viewers think that Hailey is "kicking" Selena Gomez through this photo set.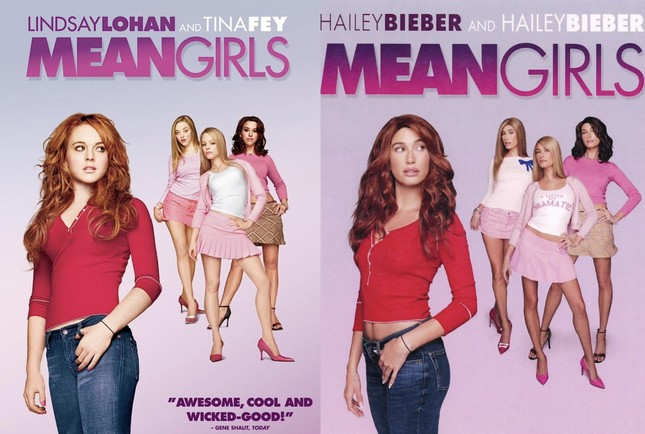 Hailey Bieber transforms into four girls in the movie Mean Girls .
Mean Girls is a hit teen movie released in 2004, revolving around student Cady Heron and her journey to becoming the most popular person in school. To accomplish this, Cady did not hesitate to use dirty tricks on the "queen of many tricks" Regina George.
According to many Twitter users, the noisy story between Hailey Bieber, Justin Bieber and Selena Gomez is somewhat similar to the "love triangle" of Aaron, Regina and Cady in Mean Girls . Specifically, Regina and Aaron were a couple before. When Cady appeared, Cady later had feelings for Aaron after he and Regina broke up. Because she wanted Cady to be jealous, Regina returned to Aaron, from which a series of conflicts occurred between these two characters.
Hailey Bieber chose the photo at the event where she hugged closely with Selena Gomez.
Ads by tpmds

In Hailey's Halloween picture, she plays all four characters including Regina, Cady, Gretchen and Karen. The female model even used her image at the Academy Museum's gala event in 2022 to put in the Burn Book , similar to Regina George's actions in the movie. More specifically, the event Hailey attended was where she and Selena hugged each other passionately.
close
Advertisements
pause
volume_off
Using such a specific image made many viewers wonder: Out of thousands of photos, why did Hailey choose that exact photo? Is she playing Cady and "implicitly" suggesting that Selena is the mean girl Regina George? However, the above information is still just fan speculation after Justin Bieber's wife's confusing photo choice.